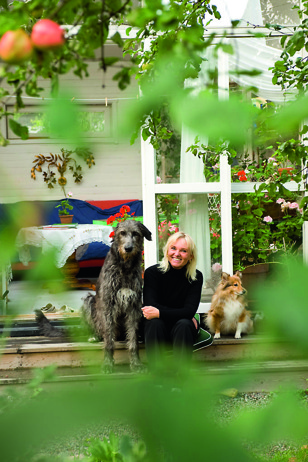 Åsa Lövberg is a visionary designer who specializes in color, design and function. Åsa has had a strong environmental consciousness since childhood, and today lives in a charming turn of the century cottage outside of the small city of Sundbyberg north of Stockholm, Sweden. She maintains a garden designed from her own needs and to the rules of nature.

"In the daily business of maintaining a garden I began to think about better and less expensive ways to fertilize my plants," says Åsa who looked for an appropriate container of some sort to mix and distribute the liquid gold. Everything she found was impractical, unhygienic and uncomfortable so she decided to design something herself.

"Something to sit on in the bathroom, and it had to be comfortable too! I did not want to have to do anything more but mix it with water and fertilize my plants. The lid had to be airtight with no detectable odor. It had to be practical and easy to carry as well. And it had to be attractive and of very high quality." Almost three years ago the concept began to take physical form.